Welcome to the Wheatlands Metropolitan District!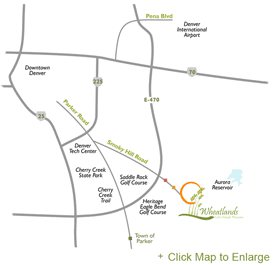 The Wheatlands Metropolitan District provides residents with parks, recreation and landscaping of common areas. And, while the District doesn't provide water or wastewater services, Wheatlands residents are fortunate to be connected to the City of Aurora's water, where homeowners have the added advantage of sharing costs with a larger, established population that already has renewable water and provides wastewater services. The City also provides the fire, police protection, street lighting, and road maintenance for Wheatlands.
Dear Homeowner-
Beginning immediately, customers can now use the new eBill and ePay system from Paymentus. With this new service, customers can make online payments and sign up for paperless billing through a single site. The paperless billing feature should be fully operational by Mid‐January. The old ePay and eBill sites will be shut down in early February, for your convenience please try and switch over as soon as possible. If you are on autopay, please contact us to discontinue automatic withdrawls through the old ePay site. If you need assistance, please give us a call and we will be happy to help. Read more
Wheatlands September Newsletter
Residential Improvement Guidelines (Covenants)
Register your email with us to stay informed of community happenings.
Wheatlands Clubhouse, 6601 S. Wheatlands Pkwy, Aurora, CO 80016
Hours: MWF 9am-1pm, TuTh 5pm-8pm
Phone during hours: 720-870-9297; After hours: 720-870-2221