Welcome to the Wheatlands Metropolitan District!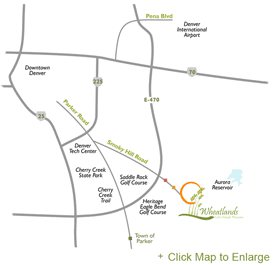 Our community was founded in 2002 and is conveniently located within walking distance to several nearby attractions. The Aurora Reservoir has a beautiful swim beach, fishing docks and bike path all easily accessible across Powhaton. Southlands Mall is another nearby attraction growing with retail stores and restaurants. If you want to discover more, we are conveniently located near E-470, making it easy to access your next adventure. Wheatlands is part of the Cherry Creek School District and is a great neighborhood for raising a family. Wheatlands offers a beautifully maintained pool and clubhouse for residents to enjoy. The community is maintained and run by your fellow residents as part of the Wheatlands Metropolitan District. The Wheatlands Metropolitan District provides residents with parks, recreation and landscaping of common areas. We invite you to join our community!
We welcome your opinion and involvement in our community. The Wheatlands Metropolitan District board meetings are held on the second Thursday of even months. Please reference the newsletter for the next board meeting or any changes to the regular schedule.
Follow our social committee events on Facebook
Owner Covenant/DRC Login – Click on the link to login to your account to view status of Design Review application or pay fines.
Need to make a home improvement or landscape change? Click here for the Design Review application.
If you haven't yet registered to get your Pool Key Chain to enjoy the Wheatlands Metro Clubhouse and Pools, you can register online by clicking here.
Residential Improvement Guidelines (Covenants)
Register your email with us to stay informed of community happenings.
Wheatlands Clubhouse, 6601 S. Wheatlands Pkwy, Aurora, CO 80016
Summer Hours: May 1-September 30 – MWF 9am-1pm, Tues/Thur 5pm-8pm
Phone during hours: 720-870-9297; After hours: 720-870-2221